Get Hulu and Disney Plus for under $5 before we wish this deal a happily ever after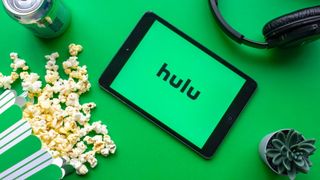 Don't be goofy – make sure you sign up to this fantastic Cyber Monday streaming deal before it comes to an end tonight and get both Hulu and Disney Plus for under $5 a month for a year.
Launching as a part of its Black Friday promotion, the Hulu Cyber Monday deal is only sticking around until 11.59pm PT tonight, offering new and eligible returning customers the With-Ads plan for just $1.99 a month for the next 12.
What has been kept fairly on the downlow is that, after you subscribe and lock in that incredible $1.99 rate (opens in new tab) , you can add Disney Plus onto your subscription for just an additional $2.99 a month.
Totalling $4.98 a month for a whole year, this Hulu Disney Plus bundle is not to be missed, especially with a Disney Plus price hike just around the corner come December 8.
Don't miss out on this happy ever after with two of the best streaming services on the market. We explain below exactly how to add Disney Plus to your Hulu subscription for less than $5 a month.
How to get Disney Plus for $2.99 a month:
(opens in new tab)
Hulu: Pay $1.99 a month for a whole year (opens in new tab)
Hulu never disappoints when it comes to its Black Friday/Cyber Monday offering. New and eligible returning customers can sign up to its With-Ads plan (usually costing $7.99 a month) and pay just $1.99 a month for their first year. With a whole host of critically acclaimed TV shows and movies, this is entertainment not to be missed.
Expires tonight at 11.59pm PT!
Once you've subscribed, click on the icon in the top right corner, click Account and then Manage Add-Ons. From here, you'll see the option to add Disney Plus for just $2.99 a month. Click on the '+' button and voila! You've created your own Disney Plus bundle for under $5.
Alternatively, if you want ESPN Plus as well, you can always subscribe to the complete bundle, which currently costs $13.99 a month, but as of December 8 will go up to $14.99 a month.
(opens in new tab)
Disney Plus: Get Disney Plus, ESPN Plus, and Hulu for only $13.99 a month (opens in new tab)
The Disney Bundle gives you three streaming services at a discounted rate of $13.99 per month, saving you a total of $12 when subscribing separately.
A subscription to Disney Plus on its own is $7.99 per month. Try adding all the movies, TV shows, live sports and Hulu Originals for a few dollars more. There are no long contracts. You can cancel at any time.
Verified Twitter Users Shared an All-Time-High Amount of Fake News in 2020
Deceptive websites received millions of shares and interactions on Twitter (and Facebook) in 2020, and verified Twitter users played a big part in that.
The combination of political divisiveness and the COVID-19 pandemic led to fake news running rampant on social media in 2020. That's not really news; but you might be surprised at how fake news was shared. According to The German Marshall Fund of the United States, verified Twitter users shared a significant percentage of deceptive website news by the end of the year.
The GMF discovered that false content producers and manipulators received nearly one third (47 million) of the 155 million verified-account shares in Q4 2020. Overall, false-content-producer shares increased by over 160%, and manipulators increased by nearly 120%, while all US websites increased by a mere 14% in 2020. This has led false-content producers and manipulators to, respectively, triple and double their verified account shares since 2018.
At the top of the chart is the Gateway Pundit, which received more shares from verified Twitter users at the end of the year than The Washington Post.The Washington Post. Breitbart received an equal amount of interactions, and Fox News, Just the News, and the Epoch Times ranked higher than NBC News.
Facebook has also contributed to the spread of disinformation, with manipulators growing their interactions 165% over the last four years against just a 75% increase for all US-based sites. In total, deceptive websites received 6.4 billion interactions in 2020, twice the number seen four years ago. In the fourth quarter of 2020 alone, deceptive sites received 1.2 billion interactions, nearly a fourth of the total 5.1 billion interactions for US-based sites.
Many false-content producers and manipulators did see a drastic fall in interactions as a result of Facebook changing its algorithm. But RedStateObserver.com still managed to receive more interactions than the Wall Street JournalWall Street Journal in the fourth quarter of 2020. Newsmax also managed to beat out the Los Angeles TimesLos Angeles Times in that same time period.
Given the results that were collected this past year, the GMF is comfortable confirming that the actions made by Facebook and Twitter to stop the spread of fake news proved to be effective. Hopefully, these platforms will continue their efforts to manage the content people publish and share. In the meantime, here are several tools to help identify what's real and what's fake news.
More Inside PCMag.com
About Jason Cohen
As PCMag's editor of how to content, I have to cover a wide variety of topics and also make our stories accessible to everyday users. Considering my history as a technical writer, copywriter, and all-around freelancer covering baseball, comics, and more at various outlets, I am used to making myself into an expert.
More From Jason Cohen
Tech on a Budget: 16 Great Gift Ideas Under $25
What to Stream This Weekend
No Mouse? How to Right-Click on a Mac
Don't Run Out of Juice: How to Save Battery Life on Your iPhone
How to Watch the Star Wars Movies in Order
Comments
(Opens in a new window) facebook
(Opens in a new window) twitter
(Opens in a new window) flipboard
(Opens in a new window) google
(Opens in a new window) instagram
(Opens in a new window) pinterest
Honest, Objective, Lab-Tested Reviews
PCMag.com is a leading authority on technology, delivering lab-based, independent reviews of the latest products and services. Our expert industry analysis and practical solutions help you make better buying decisions and https://jiji.ng/ get more from technology.
PCMag is obsessed with culture and tech, offering smart, spirited coverage of the products and innovations that shape our connected lives and the digital trends that keep us talking.
© 1996-2022 Ziff Davis, LLC., a Ziff Davis company. All Rights Reserved. PCMag, PCMag.com and PC Magazine are among the federally registered trademarks of Ziff Davis and may not be used by third parties without explicit permission. The display of third-party trademarks and trade names on this site does not necessarily indicate any affiliation or the endorsement of PCMag. If you click an affiliate link and buy a product or service, we may be paid a fee by that merchant.